FRENZ
This is sleep tech that works.
We brought more than 1,000 tricky sleepers through 2,100 sleep sessions. Here are the results.
* Every sleeper is unique. Individual results may vary.
86%
easier sleeps
OUR SLEEPERS FELL ASLEEP FASTER. SOME OF THEM 5X FASTER.
19m
saved daily
ON AVERAGE. THAT'S 58% LESS TIME SPENT TOSSING AND TURNING.
90%
precision
THE MEDICAL GOLD STANDARD. EXCEPT FRENZ DOESN'T COST $100K OR REQUIRE TRAINED TECHNICIANS TO OPERATE.
100x
more affordable
THAN A MONTH OF SLEEP LAB USAGE, GET CLINICALLY PROVEN RESULTS EVERY SINGLE NIGHT
30
days of risk free sleep
IF YOU SLEEP BETTER, IT'S YOURS. IF NOT, JUST SEND YOUR FRENZ BACK FOR A FULL REFUND.
Features
Welcome to your personal brain lab.
Hack your brain the way you want.
Focus boost
How focused are you at work? Frenz gives you a focus score and delivers quick, discreet sessions through bone conduction. In tune with your frequency to boost your concentration and creativity.
JUST RELAX
The simplest way to meditate. Tap into an extensive library of good vibrations that automatically delivers the right content for your state of mind.
The full lab report
Frenz measures your brain signals (EEG), multiple bio-vitals (breathing rhythm, heart rate, oxygen level), facial-micromovements (EMG), and eye motions (EOG). It also lets you know if you snore, or if you grind your teeth. Unheard of for consumer devices, until now.
Wake up easier
Frenz measures your brain activity throughout the night to make sure you always wake up at the right moment. Fully rested and ready to take on the world.
Cat nap
Only have a little time to refresh your brain? Frenz will help you fall asleep fast and wake you up at the perfect time in your sleep cycle. No grogginess
Deep sleep mode
Receive real-time relaxation therapy, cognitive behavioral therapy, and breath coaching while you sleep – and experience how good sleep can really be.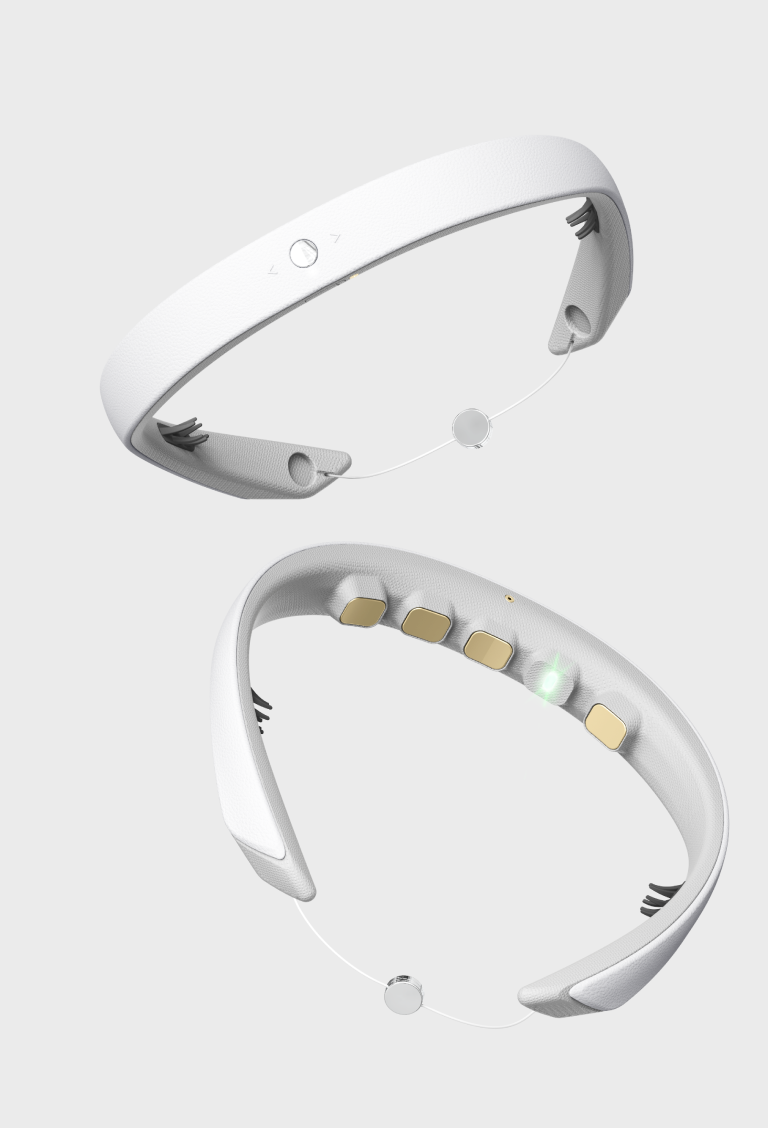 SLEEP BETTER FOR ONLY 499$ INSTEAD OF
For professional PSG devices
Per day for a trained technician to operate
For unproven focus devices
For imprecise devices that track very basic sleep data
Per year to access digital healing libraries
PRE-ORDER NOW
Be among the first to experience FRENZ™ by paying the total amount of $499 to guarantee your delivery is expedited and delivered within the first batch, or reserve your Brainband with a $50 deposit.